66th IIW Annual Assembly and International Conference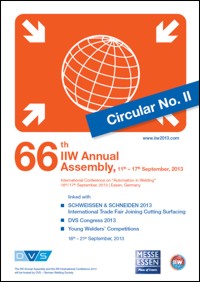 Welcome to IIW2013-Essen – a "one-of-a-kind" Experience!!

It is a great honour and privilege for DVS – German Welding Society to welcome the IIW family to Germany for the 4th time. After Essen (1957), Düsseldorf (1973) and Hamburg (1998), the IIW Annual Assembly and International Conference will return to the North Rhine-Westphalia region in 2013 for its 66th edition, scheduled for 11th – 17th September in Essen.

IIW2013-Essen will be unique, as compared with previous Annual Assemblies. There will of course be the unconventional "Thursday to Saturday" technical working unit meeting schedule. However, the event is more so destined to be "one-of-akind," offering the added bonus of linking the IIW's family of science and technology with the world of joining applications, all under the same roof and at the same time. IIW attendees will be encouraged to visit and network with over 1,000 exhibitors from more than 40 nations during SCHWEISSEN & SCHNEIDEN 2013, International Trade Fair Joining Cutting Surfacing (16th – 21st September). The overlapping of IIW2013-Essen with the world's foremost fair in welding, joining, cutting and surfacing technologies will certainly add a new and unforgettable dimension to the IIW's "world of joining experience."

The two-day IIW International Conference will focus on the globally trendsetting topic "Automation in Welding" and will feature invited speakers from the international scientific community and from industry.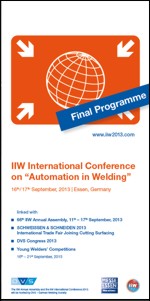 The current and future status of automation in welding, as well as the present and projected world market situations, will be explored. Applications including the newest and most emerging technologies, methods and processes, will also be presented.

In addition to the stimulating technical sessions, we have organised an interesting and varied programme of both technical and sightseeing tours which we are sure will be enjoyed by many. As the leading city of the Ruhr metropolis, Essen is home to many acknowledged cultural institutions, including a UNESCO World Heritage Site. Essen was even nominated as a 2010 European Capital of Culture. The nearby cities of Cologne, Düsseldorf, Aachen, Duisburg and Dortmund, as well as Münster, Oberhausen and the former German capital city of Bonn, also have much to offer to both delegates and accompanying persons in terms of science and sightseeing.

We have scheduled the traditional IIW social events and are also pleased to offer additional opportunities for fellowship and networking during the IIW week of activities.

DVS is pleased to host the IIW's international materials joining fraternity in Essen for this "one-of-a-kind" experience.

Come and join us in September 2013! Welcome to Essen - Wilkommen in Essen!



Klaus Middeldorf
General Manager
DVS – German Welding Society